Chief of Police Eric S. Hermick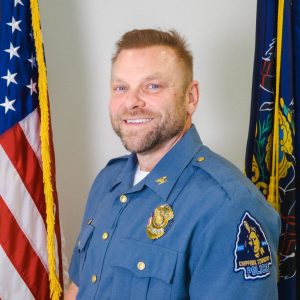 Police Department Overview
The Chippewa Township Police Department is a Professional Proactive Progressive Policing agency proudly serving the residents, schools, businesses and visitors of Chippewa Township.  The police department is committed to safety and has enhanced its capabilities and readiness through upgraded technology, equipment and becoming training centric.
Currently, the police department is staffed with three corporals and ten officers and one police clerk.  There are police officers on-duty at all times and if there is not an officer or clerk on station, there is a phone system outside the police department door that rings directly to the dispatch center who will notify the officers to return to station.
The police department is located on the lower level of the Chippewa Township Municipal Building.  For phone communications, please dial 724-843-8227 or dial 9-1-1 for emergencies.  If you see something suspicious – please notify us immediately.  We welcome citizen insight, comments and concerns so we can continue to improve our service.
Reports
If you need to obtain a copy of a police report please call 724-843-8227 to schedule a pick up.
Fees are as follows:
Crash Reports – $15
All other Reports – $20